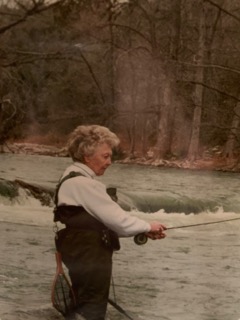 GRTU: PIONEER PROFILE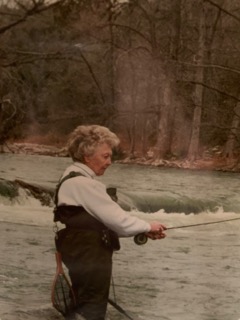 What organization would be where it is today without the pioneers that had an idea, made a plan and produced a fruitful outcome? GRTU has a great list of early members who did just this. Men and women (yes, there were a few) who set the stage for all of us. The idea was to just get together fish the Guadalupe River. Then came the river studies and all the research that was compiled by national, state, and local organizations to support a "put and take" trout fishery. And look how far GRTU has come.
But not without the volunteers like, Marian Tilson, Bill West, Jim Vynalek, Ruphert Gresham, Irving O'Neal, Bob Story, and Tom Whitehouse. I mention these members because I personally had the pleasure of knowing them and fishing with them. Wives of the men came to the meetings to help with lunches and some held the position of Secretary for the chapter. The one woman I knew was Marian Tilson. She was my very first contact with GRTU. One of the members once referred to her as a "bull dog with lipstick". She was committed, principled, and stubborn! As a director, she handled all the memberships via mail and kept all records by hand and mailed out all the lease passes and guest passes via mail. She often would elicit my help and eventually I took over her duties when her health no longer permitted her the ability to serve the organization. We would have lease passes at our front door for those members who needed a guest pass ASAP. There were phone calls and personal chats on all the procedure to become a member and a lease access member. It was all very personal.
Marian and I fished together, She loaned me waders (leaky waders) and I fished in garden boots until I was sure I wanted to spend the money on all the essentials. Marian taught me how to tie on a fly, how to stay as long as it took to catch a fish, love for our Guadalupe River, and respect for all fellow anglers. We fished together until she took her rod to heaven. I am grateful for her time and knowledge and all she shared lovingly with me.
Karen Gebhardt