GRTU Summer 2020 Fishing Report – Dan Cone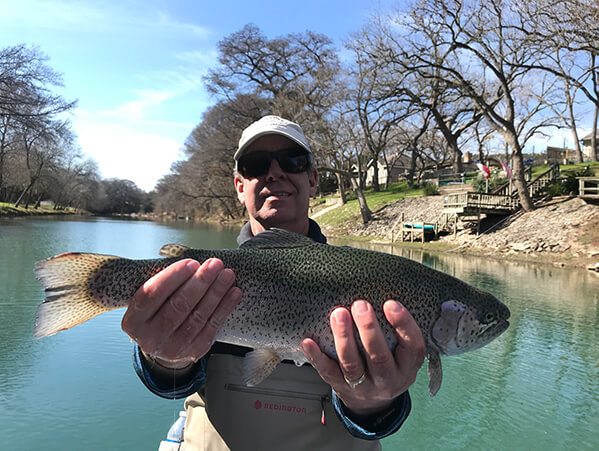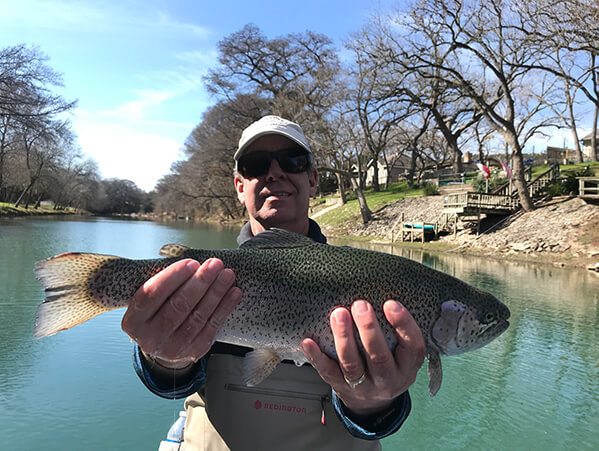 The word for the Guadalupe in Summer 2020 is "hot."
Inflow and outflow at Canyon Lake are currently below average for this time of year. On the upside, the lake is close to full and a couple of good rains this fall might give us some nice flows by December. Due to the lower flows, water temperatures below Canyon Dam are elevated. We're are currently seeing low to mid 70s close to the dam, with temperatures continually rising the further downstream you get from the dam. Simply put, it is currently not advisable to fish the Guadalupe for trout.
Some of you may have noticed that the temperature monitors stopped relaying data in mid July. This was an oversight that I hope to have rectified in the next few weeks.
If you are in the area of the Guadalupe and want to wet a line, we are seeing some nice smallmouth and some very nice stripers in the trout areas. Fish some streamers, hoppers or poppers at structure or the banks in the early morning or late evening for the better bass bite. Due to the current mandates by the Governor, outfitters on the river are not currently able to provide tubes or shuttles to the normal summer crowds. It is unfortunate that they are suffering in what is normally their busiest time of the year, however, I am curious to see if the lower recreational traffic will reduce the stress the holdover trout would normally see in a low flow year.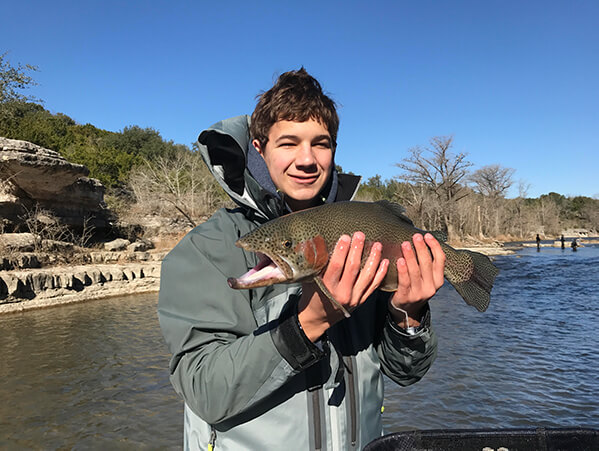 If you are a current lease access program member, please remember to only fish on the annual leases and avoid any of the seasonal leases. The current lease goes through the end of October. If you do fish one of the annual lease sites, remember to display your car tag as well as personal tag when on the river. Land owners have been asking me about members forgetting to display their car tags this summer. Forget your tag and risk being towed.
The summer feeding program is going well and we are seeing good numbers of holdovers in the upper reaches of the river, especially above fourth crossing. A special thanks goes to the lease members that are helping with the feeding program. We wouldn't have the holdover populations we do without their dedicated efforts. You know who you are, and I can't thank you enough.
I am hopeful that we will have a normal stocking program this coming season. Much will depend on river flows and temperatures as we get closer to Thanksgiving. I do plan to give you an additional update as that time approaches and please feel free to email me with any questions at ConeD@grtu.org. If you don't hear from me right away please be patient, I am currently on a fishing trip in Colorado and don't plan to be back until the middle of August. I've had my fill of hot weather and low flows in Texas and I'm pretty sure that my wife was more than happy to see me out of the house for a couple weeks. I hope everyone is staying safe and sane and I look forward to seeing you on the water soon.