Los Pinos Fishing Trip – Jimbo Roberts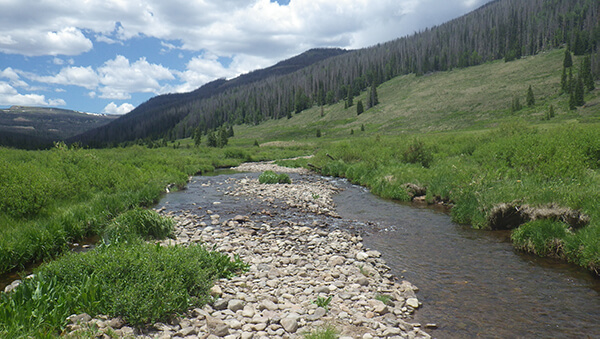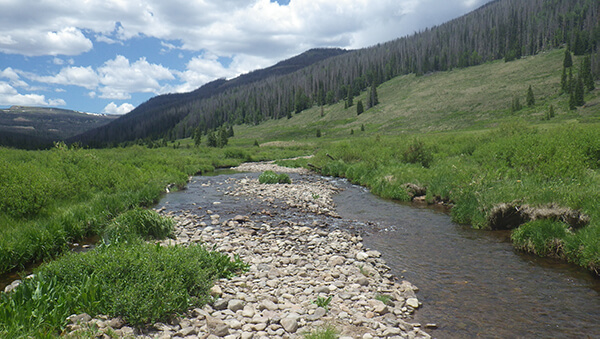 This COVID-19 pandemic has put the world on it's ear and it would really interfere with my normal fly fishing adventures. I fished the Guadalupe up to March 15. Just when this year's dry fly fishing was really picking up, I decided that, with my 91-year-old mother living with me and my past medical history of heart attacks, I needed for personal reasons, to hunker down and stay at home.
Now most summers I spend somewhere between 3 and 6 weeks fly fishing the Rockies. These plans are made about 9 months out to tie in with my timeshare. So I made my reservations last fall for the 3rd and 4th week in Pagosa Springs and then afterward for Wyoming and Idaho. Those plans were blown up when the COVID started ramping up in Texas. I could no longer leave my mother alone in San Antonio for that long.
So with a long trip in the middle of the summer out of the question, I began looking at a short trip in June. My buddy, Mike Maynard, was already camping on the Conejos and texting me about the Gray Drake Hatch happening. I had some work and things to do around San Antonio, but once those were finished, I took off for the Mogote Campground on the Conejos.
On this trip I planned to fish many places that require multi-mile hikes and significant altitude gains into little remote creeks to reach the Rio Grande Cutthroats which I love so much. Unfortunately, on the very first afternoon fishing the Gray Drake Hatch on the Conejos, a rock I was standing on rolled into a deep trough, resulting in a significant injury. I wish the cameras had been rolling on this one! It would have been worth a fortune! It was almost comical in that I ended up taking about 5 giant steps trying to get my feet under me, arms flailing like windmills, before one foot ended up, tucked under a rock, causing me to fall flat on my face.
"Down goes Frasier. Down goes Frasier!"
Anyway, I ended up with significant bone bruises on my right shin, a torn meniscus in my left knee, and various small cuts and bruises. But I didn't break my rod by some miracle. Yea!!!
Most people would have packed it up, but not me. This was my only shot at fly fishing over wild trout this summer and I was going to "endeavor to persevere".
What it did mean was those multi-mile hikes into the back country were no longer feasible.
So on the third day I decided to visit the Los Pinos in Trujillo Meadows. This would be my third visit to this stretch over the years and one very surprising day. So I packed up the Escape, drove over La Manga Pass, and down into the Los Pinos Basin. From there I turned onto some forest roads that lead to the meadow above the lake.
I selected my Sage LL 576 for this day. The last time I fished here it was full of brown trout. This is a little creek, but I had caught browns to 16″ back then, and most around 10-14″. Today would be a different experience.
I walked down to the stream about a 50 yards above the lake and started there. I freshened the tippet and tied on a #12 Parachute Adams to mimic the Gray Drakes. In the very first run, and on maybe on the third cast, a trout smashed the fly drifting back on the surface, resulting in a halo of water droplets hanging in the air. The fish tried to get under the undercut bank, but I was able to keep it from the roots waiting there, and scoop it up in my net. But wait…this wasn't a brown or a rainbow, this was a Rio Grande Cutthroat!!! And a good one about 15″!!! Hallelujah!!!
In my two previous trips I had never caught a Cutthroat in this stretch…only browns or rainbows and the occasional brookie. Now many miles upstream there is a waterfall and above that there are only cutthroats. So I'm thinking it's one that has washed downstream in the spring runoff. I released the fish and continued fishing up the meadows.
A short distance later, another strike. This was a much smaller fish. When I lifted it from the water, I noticed it too was another cutthroat!!! How lucky am I today?!? Last year I caught mainly browns with a couple of brookies thrown in the mix. Today would be something else.
I was having some smaller fish pull my fly under, but not getting a hookup out of the strike. So I downsized my fly to a #14 Parachute Adams and it made all the difference.
Fish after fish were taking the fly. And after a short battle cutthroat after cutthroat were coming to hand. I am blessed. Just when I thought I was going to miss out on some backcountry cutthroat fishing because of my injuries, here today I caught nothing but Rio Grande Cutthroats. Someone up there really likes me!
As the afternoon wore on, the count was reaching epic proportions. Rio after Rio, all cutthroats, were coming to hand. I lost count. But if I had to guess, somewhere around 30 came to hand, most 6-10″, as I covered the first mile working up the stream. A thunderstorm coming over the ridge ran me off about 3 pm. It had been a terrific day! And unexpected one at that!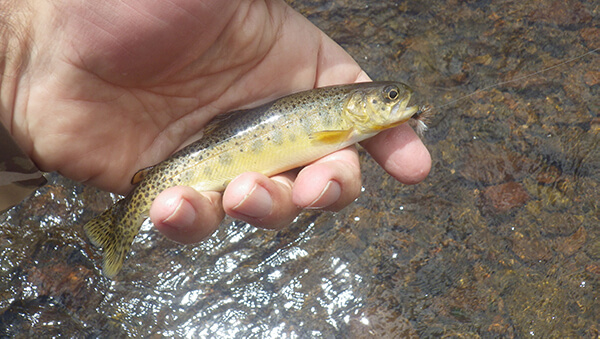 A couple of days later I was talking to the owner down at The Conejos River Anglers fly shop. I told him about my experience. He told me that in the drought of 2018, the lake had been drained for irrigation. The next year Colorado Parks and Wildlife had some surplus Rio Grande Cutthroats and stocked them in the creek just above the reservoir. They also stocked the reservoir with rainbows, so their purity probably won't last long I suspect. But they are there now and made for the best day of the entire camping trip. Yes, fortune had smiled on me once again, and as hobbled as I was, I did get in a day full of cutthroat fishing in Colorado.