Fishing Report – Jimbo Roberts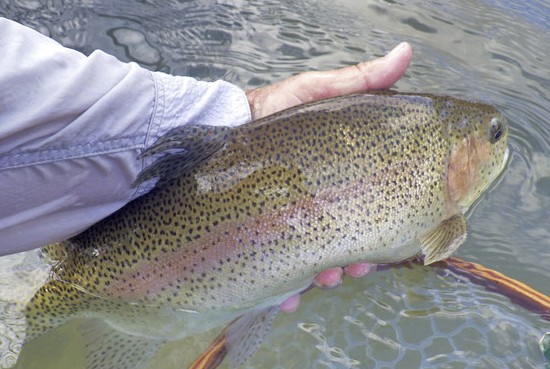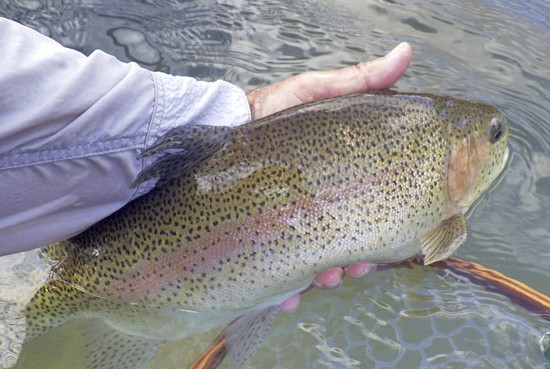 It has been an interesting year. A year where memberships to gyms for LAP members were simply no longer necessary. We have had high to "TOO" high flows most of the season. Wading in the river has been somewhere between exhausting to a leap of faith most the season. Nonetheless the fishing for trout has been very rewarding.
This year's stocking went exceptionally well. Volunteers turned out in good numbers to help get our trout into the river. And let's talk about the fish we stocked this year. The first rainbow stocking was the "BIG" fish drop. Most trout were about 18″ with many trout 4-5 lb range placed in spots held secret by those slipping them into the water!!! The second stocking was the numbers stocking, generally smaller fish, but allowing us to fortify the entire river and all our LAP sites. Then the browns arrived. It has been a process to get the hatchery provide this kind of quality brown trout we have been looking for and this year they nailed it. The last rainbow trout stocking, held during Dakus Geeslin's Youth Camp, was a good mix of medium sized fish. Watching the kids putting these fish in the river was probably the most entertaining aspect of the day. All of our trout have adapted well, and really spread out along the river.
Canyon Lake, which has been above 909 since October, was lowered to pool at the end of March. Releases from the dam are the lowest they have been all season. Today, April 2nd, they are 245cfs and couldn't be more perfect right now for the trout and fishing for them. NOAA is predicting a continuation of weak El Nino conditions across the northern hemisphere.
https://www.cpc.ncep.noaa.gov/products/analysis_monitoring/enso_advisory/ensodisc.shtml
What that means to us a rainfall that is at a minimum, average to slightly above average. That is a important fact for us. The flows in the upper river have been generally dropping as we come out of winter. GBRA and The CORPS will attempt to keep the lake near pool with releases mirroring the inflows into the lake. April and May are traditionally wet months for the upper Guadalupe and we want the right amount of rain to fall at the right time in the upper basin for the Flow Agreement to kick in for the summer. The important date in May 15th. If the lake is above pool on that day or later, we will get our sustaining summer flows and much of the fishery will survive to next season.
I know I have said this before, but this summer may be the summer we have been waiting for since 2010. If the flows remain high, we will have a time where we can ethically fish for Trout in the Guadalupe all summer. As always monitor the water temps and if they reach 70 degrees, either move upstream into colder waters, or go explore one of our many other Hill Country rivers and fish for; Perch, Bass, and Carp.
I am already planning for next season. Conversations with the hatcheries are complete and our orders have been acknowledged. I am looking to increase the number of LAP sites and fill in some of the holes in river access. We should be able to increase the numbers of our sites to alleviate crowding for next season. Things are looking really good!
A word to the wise…our trout are doing something they have not done in a long time. They are looking up! If you see rising fish, you should try and catch them on dry flies. This is something that normally is an exercise in frustration and not recommended, but this year is different for some reason. Recently, I have had good success targeting and catching rising trout. Also, browns have been recently caught exceeding 20″. One was caught that measured almost 23″ !!! That is evidence that some browns are holding over from previous seasons which is exceptionally good news for the program.
I want to thank our entire membership for making this fishery possible. Without your passion, dedication, sweat equity, and monies we would not have this quality trout fishery right here in the heart of Texas for everyone to enjoy. So take a bow and thank you again!!!
Jimbo Roberts, VP of Fisheries