Troutfest Texas 2019 is in the Net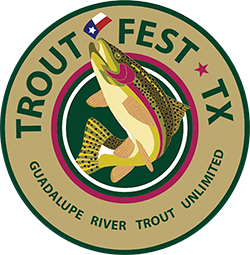 Troutfest Texas 2019 is in the Net
Fueled by the momentum of years past and a small army of volunteers, Troutfest TX 2019 was a once again a success! The Friday night banquet sold out, we had an outstanding roster of speakers, a packed pavilion for movie night, a new expo tent, a chapter meeting and beautiful weather!
The banquet, as always had an excellent line-up of raffle, silent and live auction items thanks to generous donor support. With the help of technology, we were also able to offer the auction online, opening up participation and our fundraising efforts beyond those attending the banquet. Lazy L & L outdid themselves with the food this year, the carving stations were a BIG hit and no one left hungry! In the spirit of #50/50 on the water, we had our first ever female keynote speaker. Hilary Hutcheson did an outstanding job inspiring the crowd to be prepared for adventure. Her passion for fly fishing is contagious, and we were grateful to have her in from Montana for the weekend to share the work that she is doing.
In addition to Hilary, we several outstanding speakers with in-demand sessions. Especially our featured speakers Mac Brown, Lucas Bisset, Pat Dorsey, Chris Johnson, and Meredith McCord.
We had a new expo tent this year with window and no center posts. It really opened up space, allowing more room for fly tying tables and larger aisle ways.
The 2019 artwork designed by Helms Workshop for the magazine and merchandise was a huge hit! We sold out of t-shirts and stickers early Saturday morning. Due to high demand, we offered a reorder, preorder and items are in and shipping this week.
With so many members attending TF TX, we decided to have our first quarter meeting at the event. Sunday morning the board provided an update and then we had a great presentation from Beverly Smith of TU National.
Thank you to everyone that attended, supported and donated to this year's festivities. The magic of Troutfest TX is that is run by volunteers. With 2019 in the books we'll start planning for 2020. Stay tuned for dates and information on how you can get involved, we need you!