Troutfest Texas '17 Success Benefits Youth & Non-Profits – Michael Racis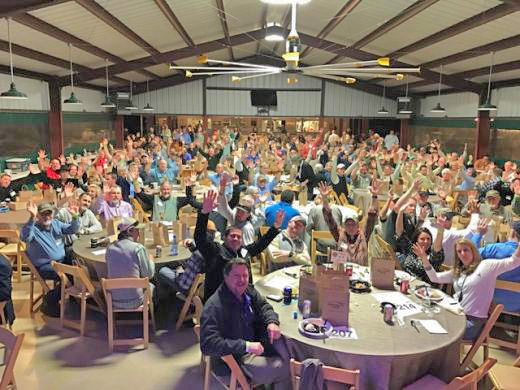 It takes dedication, planning, fresh ideas and great partners to pull off a successful GRTU Troutfest Texas event. All those elements came together making Troutfest Texas 2017 our most successful one to date.
GRTU set aggressive goals for attendance and revenue and, with the hard work of everyone involved, exceeded every goal. More than 365 banquet tickets and over 240 movie night tickets were sold making this a record shattering event. Exposition attendance over 2,500 made for a busy and profitable weekend for presenters, instructors and exhibitors.
"Troutfest Texas 2017 was taken to another level," said Ted Mendrek of Sportsman's Finest, a Platinum Sponsor, "More vendors, a new venue, great turnout, great people and a lot of fresh energy."
Jen Ripple, national speaker and Editor-in-Chief of Dun Magazine commented, "I attend many fundraisers and events. GRTU's Troutfest Texas is by far one of my favorites. While the location on the beautiful Guadalupe River is a perfect backdrop for a fly fishing event, it's the people and information gained at Troutfest Texas that makes it unique. GRTU members are warm and genuine in their love for cold, clean water and all things trout."
Click here for thoughts from Keynote Speaker Kirk Deeter, VP of Trout Media for Trout Unlimited.
Troutfest Texas helps fund the GRTU Youth Camp, a TPWD Summer Intern and other great causes, a point highlighted by Troutfest Texas Chairman, Bill Marshall. "Thank you to all our sponsors, donors, presenters, exhibitors, volunteers and attendees. You helped support not just GRTU, but our area youth, Casting for Recovery, Project Healing Waters, Fishing's Future and Reel Recovery. The record setting results will allow us to support programs on the "Guad" and across the US, including a $10,000 donation from GRTU to the TU Tomorrow Fund."
While the response to Troutfest Texas was overwhelmingly positive, GRTU is already underway planning improvements for Troutfest Texas 2018 on February 16 – 18. "We will have mobile bidding on silent auction items enabling all 5,800 members to bid regardless of where they are'' said Marshall, "We had fantastic items in 2017, including trips to Alaska, Argentina, Idaho, Montana, Colorado, Wyoming, and of course Texas. We will have all that and more in 2018. And yes, we will address the sound system concerns! See you at Troutfest Texas 2018!"
Michael Racis, Board Director