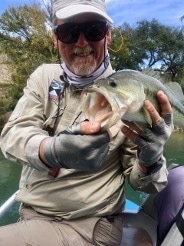 The May 14th GRTU Chapter Meeting Guest Speaker is Kevin Hutchison of Hill Country Fly Fishers. Kevin has guided Central Texas longer than most, and is a wealth of knowledge when it comes to fly fishing the immediate area and beyond! Join us for a day filled with friends, laughs, stories, info, and more! You can learn more about Kevin and his renowned guide service at www.hillcountryflyfishers.com
Fly Fishing the Texas Hill Country is the most comprehensive river access guide available to local anglers. Originally penned by the late Bud Priddy, the book has evolved much over the years. Kevin Hutchison has in the recent past, beautifully re-written, updated, and refreshed this invaluable piece of fly fishing literature. Come and hear more about how the book took shape and how it can serve you on your next Central Texas fly fishing adventure!
The meeting is from 11 am – 2:00 pm at Lazy L&L in the Pavilion. Hope to see you there.